BOOKS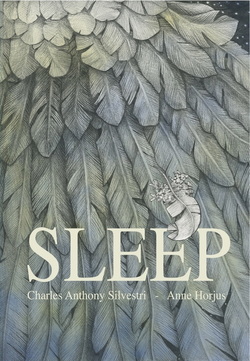 SLEEP
(2013)
Text by
Charles Anthony Silvestri
Illustrations by
Anne Horjus
A young boy is wide awake at bedtime. He struggles against sleep, as he hears noises in the night and his imagination races. He finally drifts off, amid soaring visions of flying through a spectacular sky. Built subtly into the illustrations is the deeper theme of loss. The boy has lost his mother; and yet her presence (in the form of a feather on every page) helps comfort him to sleep.
Inspired by "Sleep" by composer
Eric Whitacre
and lyricist Charles Anthony Silvestri
Available in bookstores and on Amazon.com, and exclusively distributed by the Hal Leonard Corp.
---
---
---
Supplemental Materials for SLEEP
Audio Recording

Light & Gold
The Eric Whitacre Singers
(Eric Whitacre, cond.)
DECCA (2010)

This is the definitive, Grammy-winning recording of "Sleep" conducted by the composer himself.
---
Virtual Choir 2 Video Performance

Over 200 singers from over 50 countries contributed videos for this extraordinary performance of "Sleep" directed by the composer, Eric Whitacre.

---
Performance Video

"Sleep" (March, 2009 Performance)
VocalEssence, St. Olaf Choir, Minnesota High School Honors Choir
(Eric Whitacre, cond.)


This mass choir performed "Sleep" as the finale to an evening concert of Whitacre's music.
---
Original Kickstarter Promo

Here is a link to our original Kickstarter Campaign, which we used to fund this first venture!
---
OTHER PRODUCTS
---