About our name and logo, the ACROTERION
"Acroterion" is an ancient Greek word used to describe a particular architectural decoration placed on the corners of temple rooftops, sort of like an ancient Greek gargoyle. These stone or tile ornaments took various shapes--abstract, botanical, or even animal shapes. The Acroterion represents the "finishing touch" an architect places on a building, transforming it from a purely functional space into a work of art.

For us, the Acroterion represents the care and attention-to-detail necessary to make something truly wonderful. In a world full of instant gratification and expediency at the expense of quality, we at Acroterion Books pride ourselves in taking our time to make things right.

---
Charles Anthony Silvestri - Editorial Director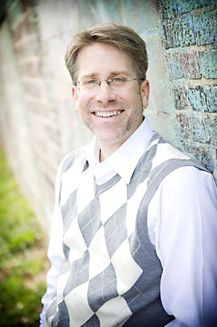 Acclaimed lyricist Tony Silvestri specializes in providing bespoke poetry for choral composers, especially texts in Latin, both sacred and secular. He enjoys the creative challenges and rewards of the collaborative process, and has provided lyrics for many composers in different stages of their careers and for a wide variety of commissions and occasions. "Collaboration between composer and poet is magic," Silvestri argues. " It opens for the composer opportunities for organic and dynamic creation not possible with previously published poetry, and gives the poet the thrill and responsibility that his words will be sung--not read--and will be heard attached to an emotional soundtrack. There's magic and power in the marriage of words and music." He is the author of twenty published works in collaboration with celebrated composers such as Eric Whitacre, Dan Forrest, Ola Gjeilo, and Andrea Ramsey. His words have been sung by thousands of choirs around the world, and have been heard on television and radio, and in magnificent spaces such as the Sydney Opera House, Disney Hall, Carnegie Hall, Lincoln Center, the National Cathedral, Royal Albert Hall, Westminster Abbey, King's College, St. Peter's Basilica, and onboard the Space Shuttle in orbit.
In addition to writing choral lyrics, Silvestri is also an accomplished artist/painter, specializing in replicating Medieval manuscript illumination and recreating the techniques and materials of Gothic and Renaissance painters and iconographers. He is a veteran teacher with two decades of experience teaching kindergarten through college. He has earned Bachelor's, Master's, and Doctorate degrees in Ancient and Medieval History from Loyola Marymount University and the University of Southern California. Born in 1965 in Las Vegas, Silvestri has lived in Los Angeles and Rome. He currently lives with his children in Lawrence, Kansas, and teaches history at
Washburn University
. ACROTERION Books represents his first venture into the world of publishing. For more, visit his personal website at
www.charlesanthonysilvestri.com
, or contact him here at
tony@acroterionbooks.com
.
---
---
Anne Horjus - Artistic Director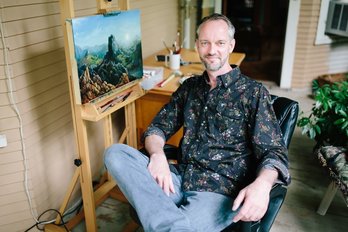 The multitalented Dutch artist Anne Horjus was raised in a small village near the Wadden Sea in the Northern part of the Netherlands known as Friesland. From kindergarten on he (yes, Anne, pronounced Ann-uh, is an old fashioned Friesian boys name) had to bike to school. Every day he traveled through farm fields and other tiny villages, passing many Friesian farms and countless migrating birds using the coastline as their route. Inspired by his surroundings he started to sketch, paint and make things with whatever he found (and was allowed to use) in the house.
After high school, Anne went on to study classical singing at the Royal Conservatory in The Hague. In addition to singing and teaching Anne is also a visual artist. This great combination of all these art skills has served him well.
Anne has been active in a variety of freelance projects including portraits, landscapes, art installations, murals, theater sets, woodcarvings, puppet building, storytelling and writing. He has illustrated several children's picture books in The Netherlands, Belgium and the U.S.A. He often combines his artistic skills to create unique, multifaceted performances to entertain large audiences.
Anne is a part time library program coordinator and has written for the past four years for the Collaborative Summer Library Program Manual, which is distributed to public libraries in 44 states. World Book is one of his newest clients, using his knowledge of theme-related activities for the young through art and craft projects. He is a frequently-requested clinician for literacy-related youth programming for library systems and school districts. For more, visit his personal website at
www.annehorjus.com
, or contact him here at
anne@acroterionbooks.com
.
---
---